BNSF's layers of safety protect employees, communities and trains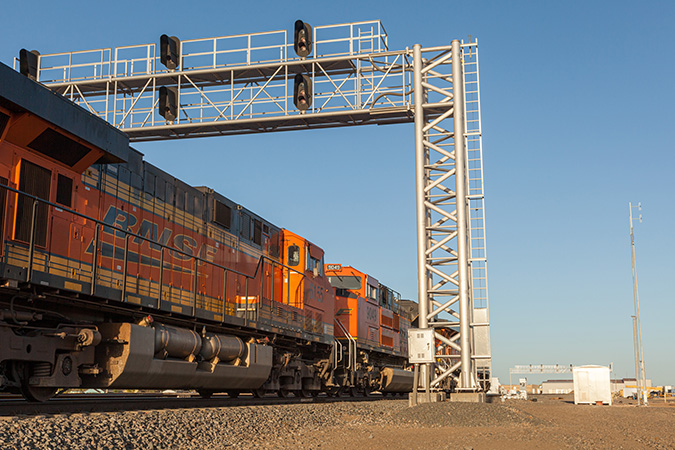 Safety is the most important thing we do at BNSF. Our safety vision is to operate free of accidents and injuries, and that includes the people and freight that travel on our tracks.
We apply technology in multiple layers of safety on our network to ensure that our employees and the trains they operate stay out of harm's way. Positive Train Control (PTC), rail inspection vehicles, the Network Operations Center (NOC), trackside detector technology and our Operations teams all work together to create a safe environment.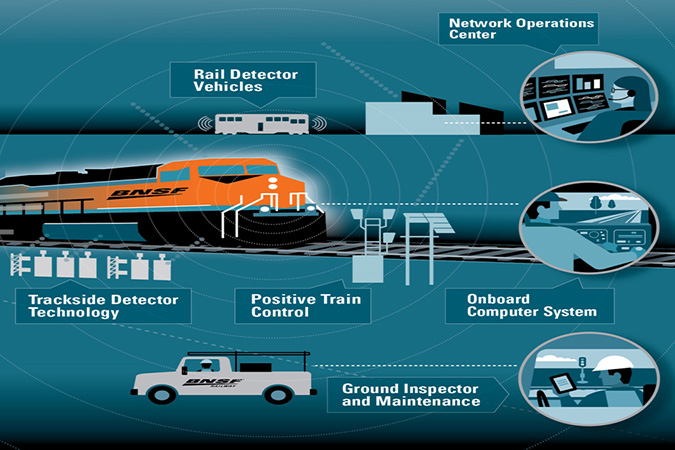 Positive Train Control

Positive Train Control (PTC) works in tandem with our other safety measures to prevent train-to-train collisions and derailments caused by track authority violations or excessive speed. The system also prevents unauthorized train movement on sections of track where employees are performing maintenance activities, as well as protect against movement of a train through a track switch in the wrong position.
In 2004, we began developing our current PTC system, which at that time was called ETMS (Electronic Train Management System). Then in 2008, the federal government mandated PTC implementation on 11,570 route miles of our track. Bob Brendza, general director of Network Control Systems, and his team oversaw the operational implementation of PTC. This included testing the technology on locomotives, refining issues that came up, providing training for train crew employees, and implementing the interface between PTC, the field, and the NOC, our command center. "PTC is the most complex technology the railroad industry has ever implemented, and it took great teamwork from thousands of people across every department to make it successful. We at BNSF definitely were leaders in PTC implementation," Brendza said.
PTC uses the latest in digital wireless communication technology to transmit train-related information between locomotives, the NOC, and wayside switches and signals. PTC works with GPS (Global Positioning System) to create an effective safety overlay for train operations for BNSF. It also works with other railroads that interoperate with us. The technology takes in movement-related information like authority limits, speed limits and work zones through Wi-Fi, cellular and radio communication networks, and displays it on a screen inside the locomotive cab.
There are three main elements to the PTC system – the Onboard Locomotive System, the Wayside System and the Back Office Server (BOS).
The Onboard Locomotive System retains all information about the physical attributes of the railroad and monitors the train's position to enforce braking as needed to comply with train movement requirements.


The Wayside System detects signal aspects, switch positions, and conditions affecting the track ahead, then communicates to the train whether it's authorized for movement or needs to stop.


The Back Office Server (BOS) communicates mandatory movement directives and information between the NOC and the individual trains.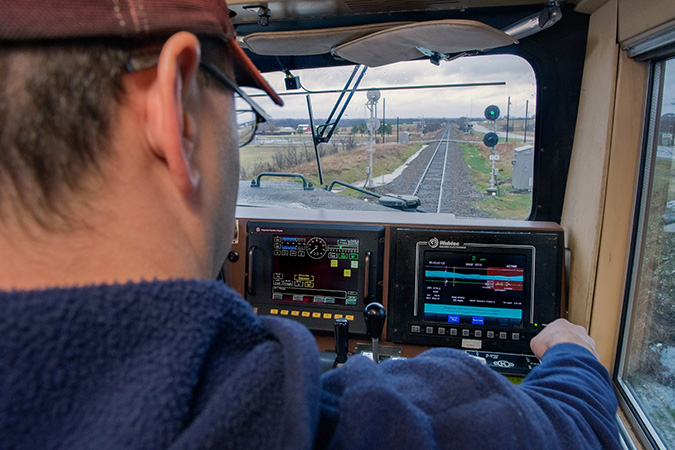 As a train moves, the onboard computer constantly calculates a warning and braking distance based on the train's speed, speed limits, signals, switch positions, grade and work zones. PTC gives an onboard warning if the train moves within the warning curve of a potential violation. If the locomotive engineer doesn't respond before the train reaches the calculated braking distance, PTC will stop the train.
In addition to stopping trains before violations occur, PTC helps the locomotive engineer visualize the curvature, grade, signal and switch locations as well as grade crossings up to six miles ahead. This provides the engineer with advance information that can make train operations more efficient. An added benefit is the visual tool it provides to locomotive engineers as they learn new territories.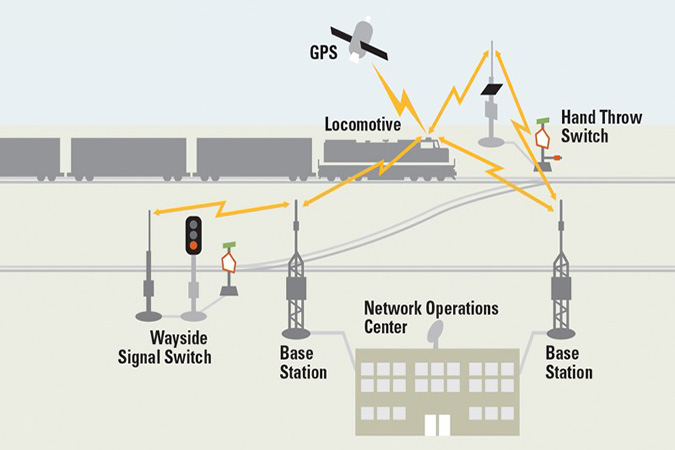 We've installed the PTC infrastructure on 100% of the network mandate. But we didn't stop there. Currently, PTC is installed on more than 3,300 miles of un-mandated track. By mid-2023, there will be another 400 miles of track protected by the PTC system. PTC covers 94% of the freight we haul.
"BNSF always has run a safe railroad;" Brendza said. "PTC has taken that level of safety to its highest level in history."
Geo cars

Track geometry cars, better known as geo cars, are manned or unmanned rail cars that inspect our tracks using ultrasound, radar and machine vision systems. These cars can look deep inside the rail and supporting crossties to find tiny flaws imperceptible to the human eye.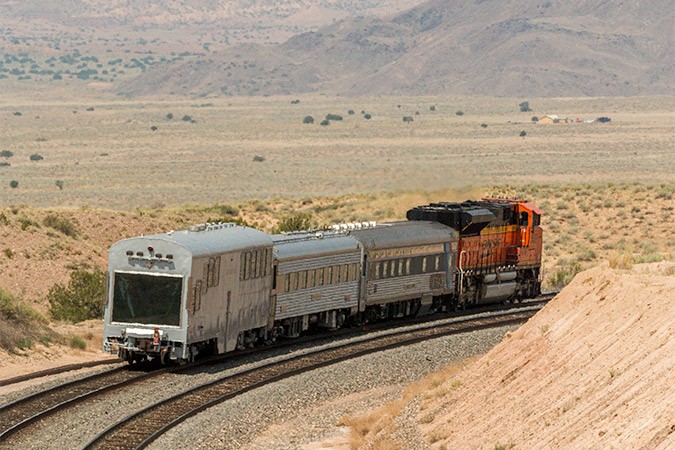 Geo cars can collect information about tracks at speeds up to 70 mph. Unmanned cars are able to operate 24/7. In 2021, we tested 425,000 miles. The data generated by these cars is processed by using algorithms and artificial intelligence to analyze hundreds of millions of bytes of data to determine when and where track maintenance is needed, ensuring the safety and integrity of the track.
Network Operations Center

BNSF's Network Operations Center (NOC) operates 365 days a year, seven days a week, 24 hours a day, managing 1,400 trains daily across our expansive 32,500-route mile network. The NOC supports better communications and increased collaboration – the basis of safety – and is home to the most sophisticated transportation planning technology available. The main priority of the NOC dispatchers is the safety of our people and network.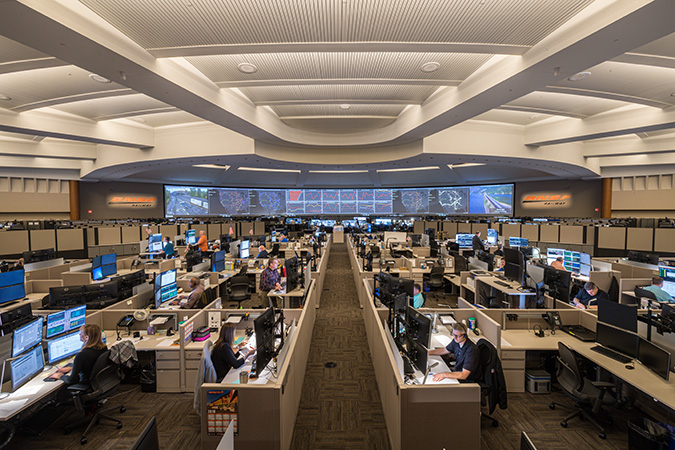 Train-related information is transmitted by dispatchers working from the NOC to train crews and maintenance crews through our secure wireless communication system. As a train or maintenance vehicle moves along the track, on-board systems use GPS and a geographic track database to follow its location. The computer integrates the information downloaded from the computer systems with its actual position on the track to make sure movement does not exceed authorized limits.
Trackside Detector Technology

With more than 4,000 trackside detectors that collect data around the clock, detector technology enhances the safety of our rail cars, locomotives and their many components. Detectors are positioned trackside and are equipped with thermal, acoustic, visual and force sensors to detect wheel defects.
The devices evaluate sounds generated by specific bearing component defects, bearing temperature history for outliers and brake issues, and differences in tones generated by normal vs. flawed wheels or axles.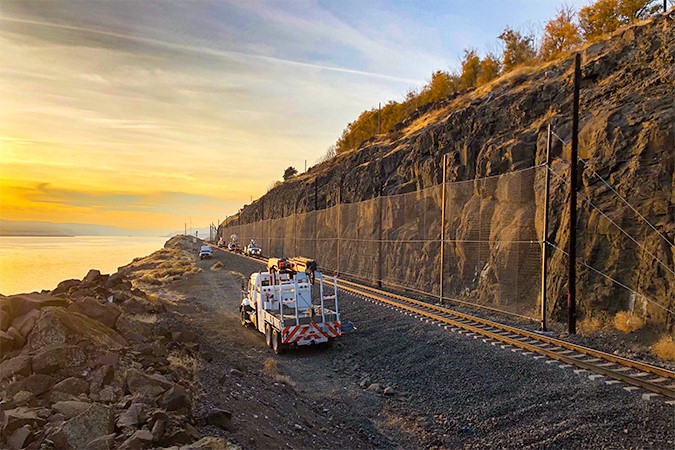 Another trackside safety system is the rockslide detector, also known as a slide fence, a series of wires suspended by poles to form a fence. When debris breaks one of the wires, an electrical circuit is disrupted, and restrictions are placed on either side of the obstruction. Trains operating in the area are stopped until the track can be cleared.
Two other trackside safety systems that we use protect against slump and high-water areas. Slump occurs when the ground below tracks shift, degrading its ability to support trains. Ground movement detectors work like a level, measuring the cross-level of the rail. If there is too much cross-level, an electrical circuit sets nearby signals to restrict train activity in the area. In high-water areas, when water enters the trackside detector, copper electrodes short out the electrical current, alerting nearby signals.
Maintenance

While technology does its part to protect our operations, Engineering crews maintain our tracks and structures and regularly inspect track, tunnels and bridges. They conduct additional inspections after weather events.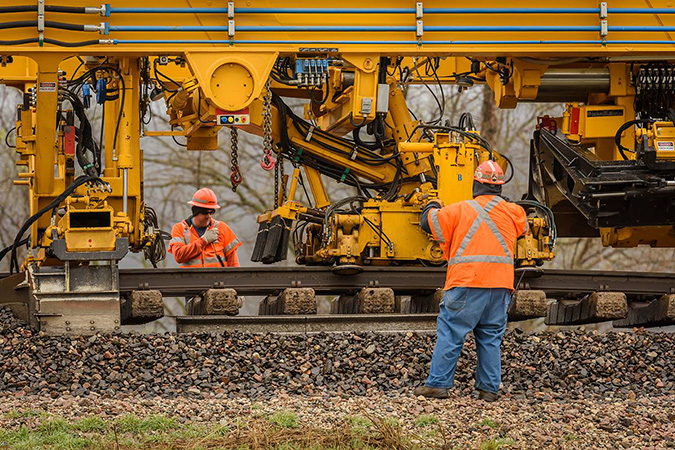 Our Mechanical teams ensure that our rolling stock – locomotives and the rail cars they pull – are regularly inspected, maintained and repaired.
All members of our Operations teams – Mechanical, Engineering, Transportation and more – are highly trained in their roles and in position to observe and report any exceptions they may see during their workday.
With our people and our multiple safety layers working together, freight rail with BNSF is safe and getting even safer. Each layer of safety creates a safer tomorrow – for our employees, customers, and the communities through which we operate.