World class: How accomplished athletes brought their winning spirit to BNSF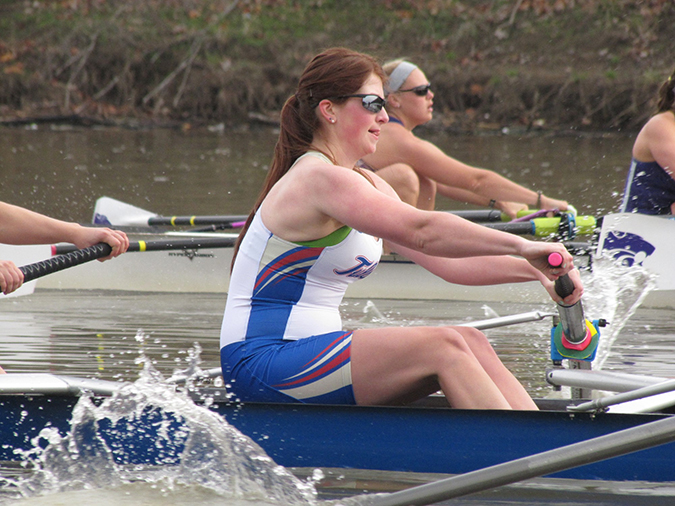 Our employees work hard and play hard. Some even come from impressive athletic backgrounds, having been ranked nationally in their sport or offered opportunities to go pro. Others have been team coaches, sharing a passion for the game as they inspire others to be their best. The life lessons they learned as athletes and coaches have helped them to become great railroaders and BNSF leaders. Here are some of their stories.
The sport that taught her how to 'row' with it
Ashley Lane, environmental manager at BNSF, was a competitive rower before joining the railroad. In high school, she placed fifth at the U.S. Rowing Youth Nationals event in the Youth Women's 2x (two rowers). She was then recruited by the University of Tulsa, where she was a four-year varsity letter-winning athlete in the Division I program.
"It was a fantastic experience, and it really shaped me as a person and businesswoman," Lane said.
Lane first got into rowing because she loved the outdoors and working with other people.
"Rowing is the ultimate team sport," she said, explaining there are nine people in a boat, eight of whom must row perfectly in sync. While on the team, Lane learned how important diversity is for success as well as the need to lift others up. "We are only as strong as our weakest link," she said.
After college, Lane stayed connected with the rowing community, volunteering as a coach for high schoolers. She enjoyed passing on her passion for rowing and found inspiration in her students.
"Rowing is not a traditional sport," she noted. "Trying something different can be scary, but my students constantly proved how strong they were."
Lane's biggest lesson from rowing was discovering her own abilities. "I realized I can do hard things," she said. "Rowing looks easy and graceful, but it's a full-body experience." The seats on the boats swing, and the rowers must engage their entire body to push and pull the oars.
Rowing also requires mental fortitude. Choppy water, unpredictable weather, and the possibility of seals and fish jumping into their boats taught Lane and her teammates how to stay positive under any circumstance.
One of her favorite memories is of a long-distance competition during the chill of fall. Halfway through the race, clouds rolled in and rain poured down. "We were getting smacked by the waves. We were rowing for our lives," Lane recalled. The girls found sanctuary at a nearby island but had to wait hours for help. During this trial, they couldn't stop laughing.
"So many factors are out of your control in rowing. You learn how to roll with the punches," Lane said. "There's no better lesson than that."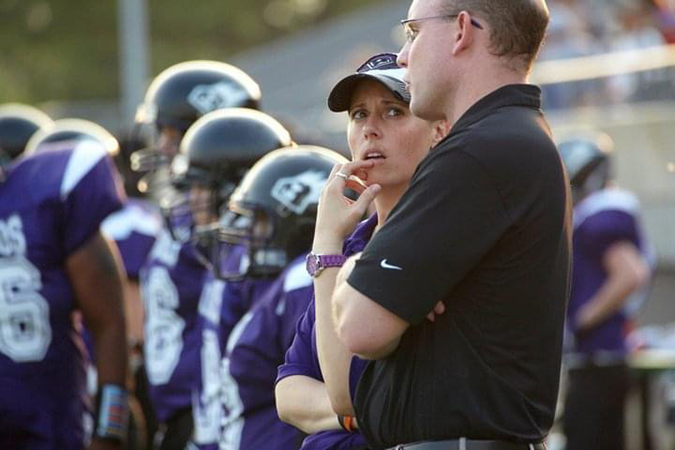 Life lessons from a love of sports
Trainmaster Dawn Berndt has achieved many athletic accolades. In high school, she was on the curling team and went to state during her senior year. After college, she founded and operated the Dallas Diamonds Women's Pro Football team, paving the way for other women's teams. At the same time, she managed Team USA for the International Federation of American Football world games in Sweden and Finland, winning gold in both.
A favorite Dallas Diamonds memory is of a Houston competition. For the entire season, Berndt had worn the hat of an opposing but distinguished team that was crushing the others. When her players asked her to stop wearing the hat, she promised that they could burn it if they could beat the opposing team. She reminded them of this every practice.
When the time finally came, the team was ready -- and they won. After the game, when she arrived at the team's celebration party, the girls were laughing and chanting to hand over the hat.
During her many years of coaching, Berndt learned about leadership and patience. Most of all, she valued the importance of diversity. "There were many different women on the team, and I learned to respect their differences and how to get the best out of everyone."
Berndt built her programs with the intention of empowering women. She helped one earn her doctorate and another found her own business with only a GED. When she realized she needed to support herself as well, Berndt earned her master's degree in human resources development and is currently working on an MBA.
Through it all, her wife has been by her side, with Berndt as mastermind and her wife as pillar of support. "'So, what are we doing now?' she asks when things start to slow down," Berndt laughed.
What that next adventure will be is yet to be determined, but Berndt is confident it will be worthwhile. "We are our own restraints. Don't worry about failing. Success comes from failure," she said. "Embrace everything with an attitude of 'Why not?' You never know where that will take you."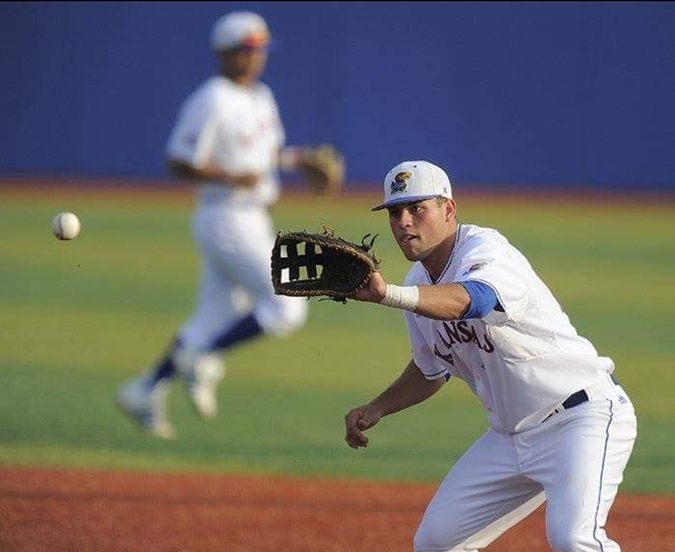 Choosing college ball over pro
As a kid, Zac Elgie always had a ball in his hand. Baseball, football, basketball. He played them all growing up in Minot, North Dakota.
Baseball dominated in his high school years, and his future was bright, especially as his senior year approached. That was when the Oakland A's chose him during the 12th round of the 2008 Major League Baseball draft.
"I was 18, and had played really well, with 34 homeruns and my numbers were good," Elgie recalled. Reps from every MLB team had shown interest, but when it was decision time, he instead took a chance on college, heading south to the University of Kansas, which had offered him a full scholarship.
And he never looked back.
Today, as a trainmaster in Whitefish, Montana, he has great memories of his years as a Jayhawk. He was a versatile player, mainly covering first base but also third base. A highlight of his college days was a home run in the bottom of the 11th inning, giving KU a win over rival Kansas State.
An injury that same year sidelined him, and while he tried to rehab and make a comeback, he knew he wasn't where he needed to be to get a look in the upcoming MLB draft. Graduation soon followed, and he joined BNSF as a conductor trainee in 2014, becoming a trainmaster in 2019.
Today he officiates football and basketball games in his spare time. "Sports shaped my life," Elgie said. "That's why I want to give back."
"I miss being able to play the game that I love, and some of the guys I played with and against are now in the majors," he said. "That camaraderie will always be with me, and I'll never forget what my teammates meant to me. We'll have lifelong connections."
Beyond the good memories and friends, his time on the diamond also gave him lessons he uses on the job. "As a leader, I want to make our workplace better for everyone. I try to do the right thing for my coworkers, and I always give 100%."


Photo credits:
Ashley Lane photo courtesy of The University of Tulsa
Zac Elgie photo courtesy of Kansas University Athletics