13 'track-tacular' photos taken by BNSF employees
They say a picture is worth 1,000 words, and these photos prove it! At BNSF, we're proud of our rail network that stretches for 32,500 route miles from the West Coast through America's heartland and beyond while reaching into Canada and connecting to Mexico. Here are 13 photos taken by employees that captured some of the breathtaking scenes that happen on the rails every day.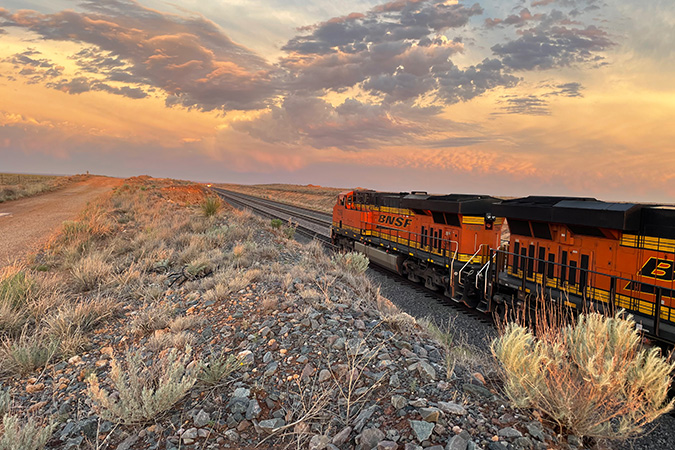 An eastbound intermodal train waits on a siding on the Clovis Subdivision in New Mexico under a stunning sunset. Augustus Payne, switchman, took this photo using his iPhone 12.
"The sky was beautiful, and I caught this train in the perfect position for a photo while it was on a siding," Payne explained.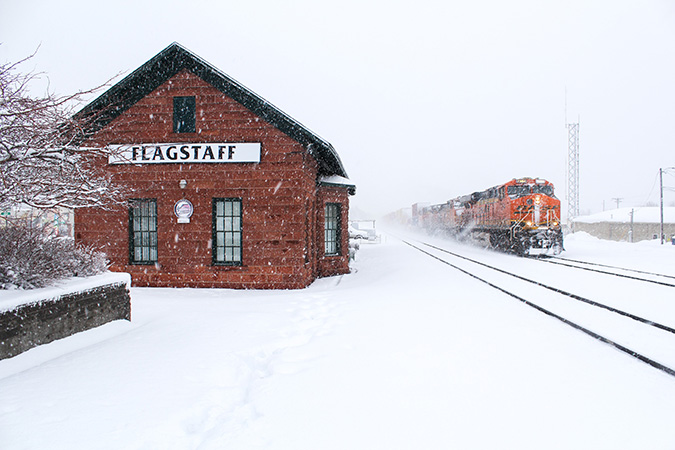 This wintry photo was taken by Robert "Bobby" Ellington, manager of Business Development. His photo features a BNSF train passing through Flagstaff, Arizona, during the last snowstorm of 2021.
"I knew it would be a great photo opportunity," Ellington said. "I waited in the snow on a nearby sidewalk about 15 minutes for the perfect shot."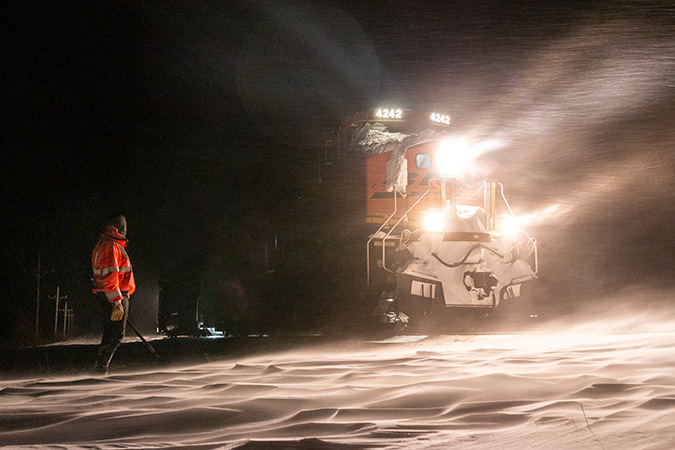 Stephen Schmidt, terminal trainmaster, took this photo as the conductor paused to clear snow from the windshield of a locomotive.
"On this snowy evening, drifts were forming on our main line," Schmidt recalled. "My friend and co-worker had been called to clear the drifts. I tagged along for a unique opportunity to take evening shots of snow blowing around a BNSF locomotive."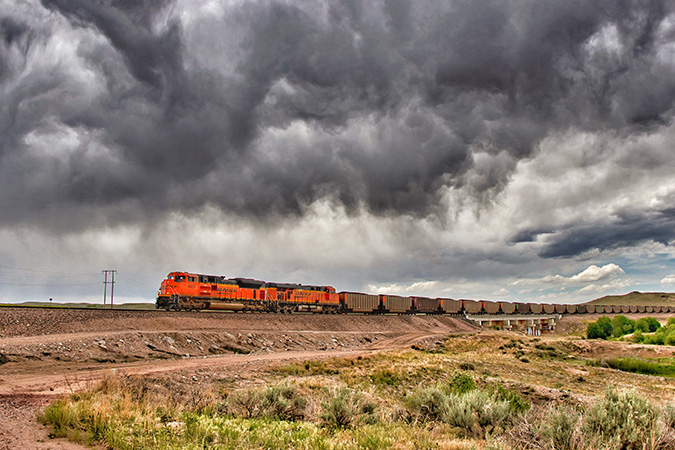 A coal train rolls through the Canyon Subdivision under stormy skies. Alex Funderberg, manager, Public Projects, took this photo from a Wyoming roadside.
"I was headed home from a work trip in Casper, Wyoming, and thought the clouds looked interesting," Funderberg explained. "A few minutes later, a train approached, so I pulled over and took this shot with my Cannon TG1 Rebel."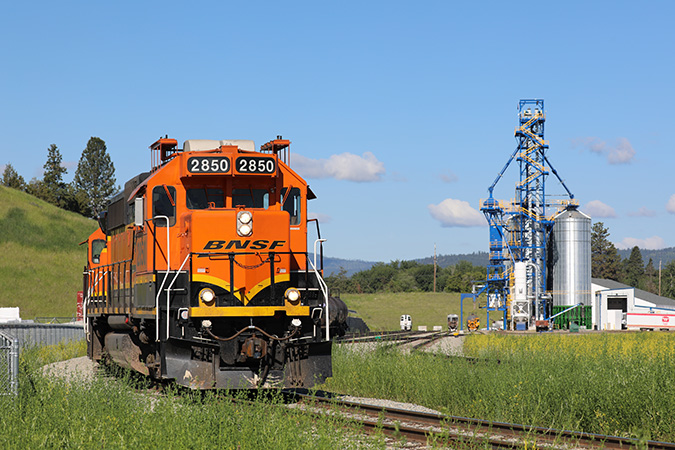 Clarke Sutphin, locomotive engineer, was able to capture this moment near Glacier National Park within Glacier Rail Park, an industrial park with direct rail service. The facility in the background is used for both building and agricultural products.
"I was visiting a friend in the Whitefish, Montana, area who was familiar with the new Glacier Rail Park, so we followed a road switcher there," Sutphin said. "My goal was to feature the investment made by BNSF to improve rail service for our smaller customers."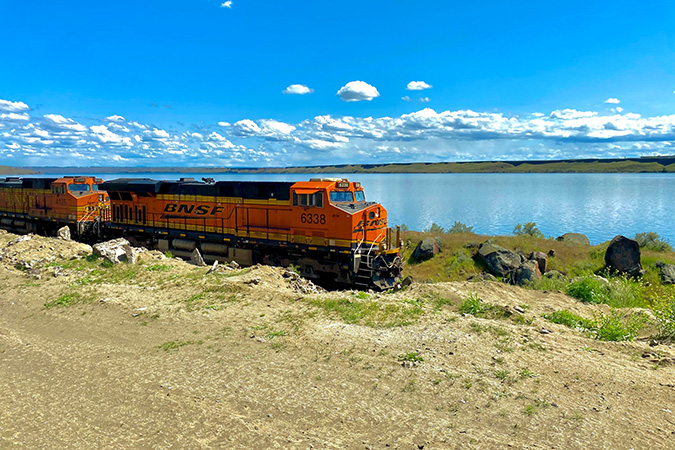 Kara Brockamp, project engineer, captured the first BNSF locomotive and train to travel over a new siding on the Fallbridge Subdivision last spring.
"I was near the Columbia River checking on construction of a new siding when a train passed," Brockamp said. "Trains often come back-to-back here, so I waited. That's when the BNSF 6338 came around the corner and I snapped the photo."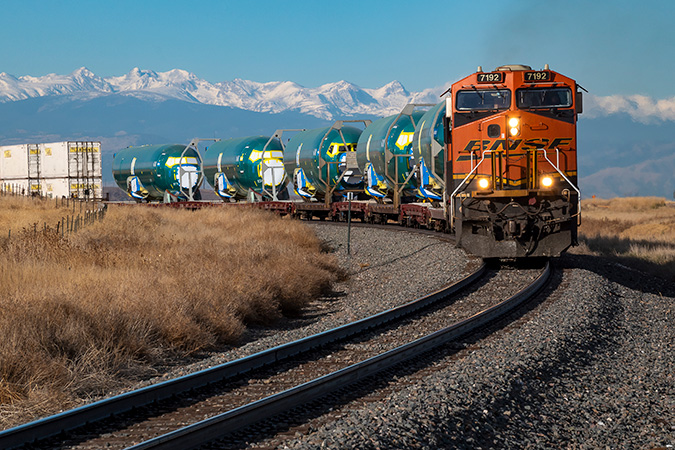 A BNSF train moves airplane fuselages with the snow-covered Rocky Mountains in the background, as captured by Jeremy Frankovis, conductor.
"One morning on my way home from work, the skies were clear and blue," Frankovis recalled. "Using my Nikon D5600 I snapped this photo and zoomed in from a distance to bring the background and train together."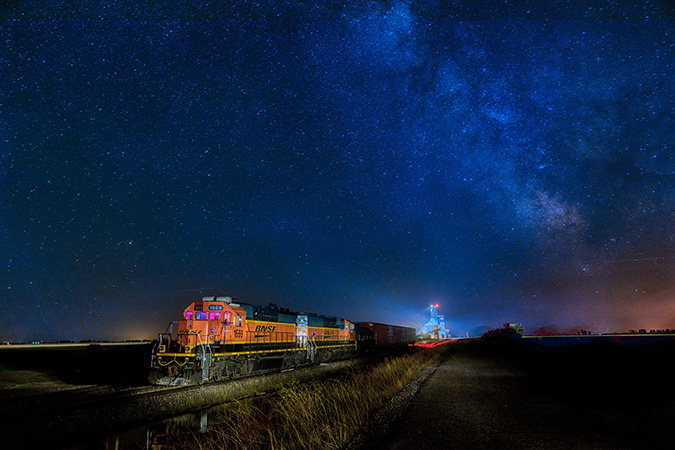 Division Trainmaster Erich Linser took a remarkable photo of a BNSF train traveling under a starry sky in North Dakota.
"It was a clear evening. I pulled over and set my camera on a tripod," Linser explained. "I took several shots to get the perfect one, using a spotlight to illuminate the train, the Milky Way and the Northgate Elevator in the background."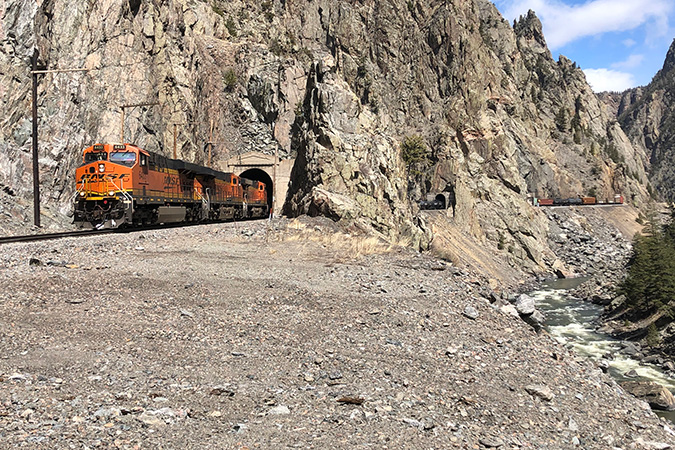 A merchandise train snakes through tunnels in Gore Canyon in Colorado. Allen Wright, switchman, took this photo at just the right time!
Wright explained, "I always thought it would be cool to see a single train on both ends of this tunnel, and I just happened to catch this at the perfect time."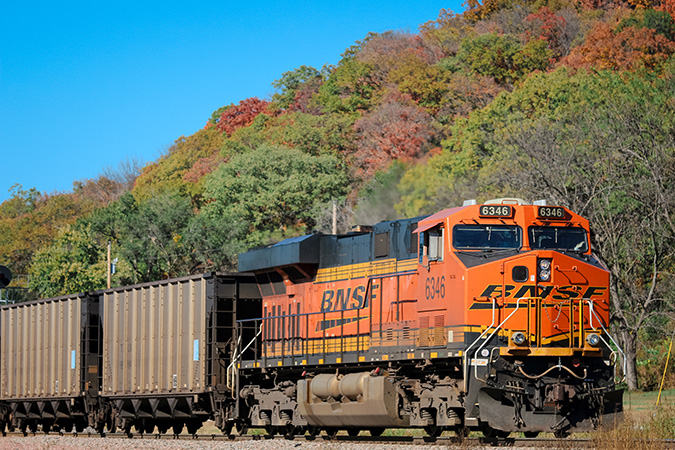 Michelle Tibbetts, manager, Operations Workforce Management, captured a shot of a BNSF train as it passed by northwest Missouri's fall colors.
"I was travelling in Missouri when I spotted this train and pulled into a siding," Tibbetts said. "Luckily, I had time to unpack my Canon 60D. I was pleasantly surprised to see the bright fall colors in the background."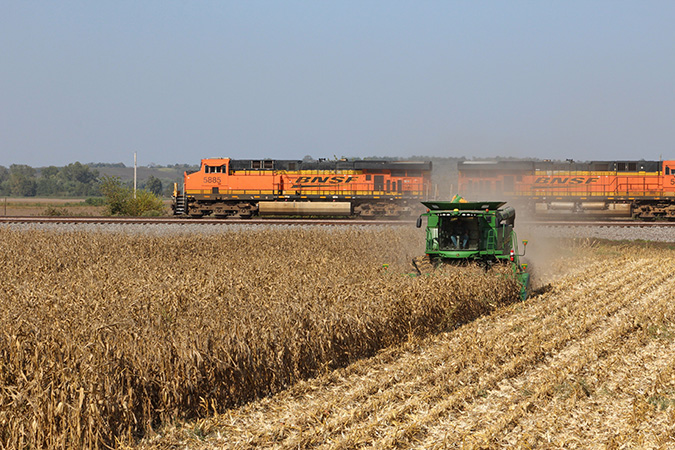 A westbound train passes a combine harvesting corn near Kansas City, Kansas. Manager Stanley Ujka, Economic Development, caught this harvest-themed photo on his way home.
"I noticed this farmer harvesting corn," Ujka recalled. "Knowing a train would pass in minutes, I found a safe place to park. When the train came into view, I took the photo with my Canon EOS Rebel T5."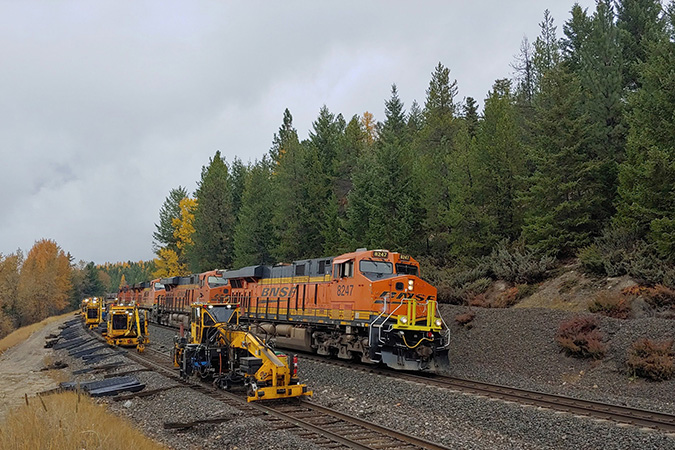 An Engineering crew installs new ties on a siding while a train passes safely on an adjacent track. Oaken Wergin, manager, Safety, was able to capture this shot.
"I was recognizing this production gang for their safe production when I heard a train coming," Wergin explained. "The background was beautiful, so I snapped this picture using my OnePlus 7T McLaren camera."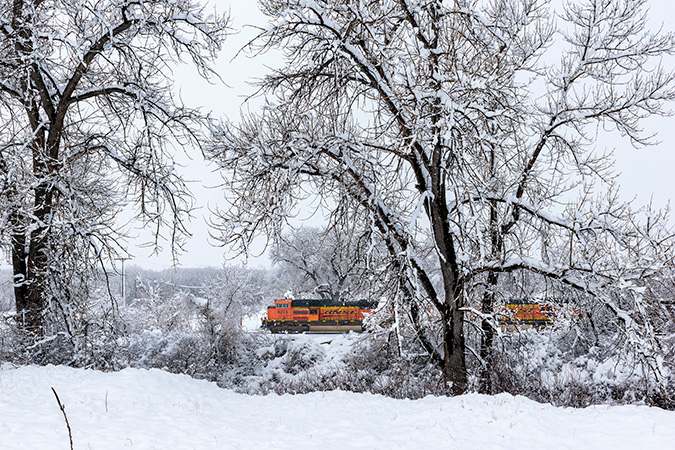 Our signature BNSF orange is sure to stand out in the snow. Jeremy Frankovis, conductor, captured this photo on the Pikes Peak Subdivision.
"I always wanted to get a photo of a BNSF locomotive with fluffy snow in the foreground," Frankovis said. "The contrasting colors are beautiful. I happened to see this on my way to work and got lucky!"
Thank you to our talented employees for taking a moment to capture these picturesque moments on the BNSF network.