Making their mark: Women, art and the West
The American West has long been the subject of artists who wanted to capture both the spirit and beauty of its panoramas and people. Some 150 years ago, the region was still undeveloped, but its allure pulled at the artists, many of whom were women.
"As men traveled West to search for gold, their wives followed. Many recorded the journey through painting or the written word," said Linda Osmundson, author of How the West Was Drawn: Women's Art. "Others grew up in the West and painted what they saw, lived or loved. Many were the wives, daughters and sisters of religious and business professionals. Some were self-taught while others were well-trained and/or teachers."
Today, BNSF's corporate art collection– the oldest in the U.S. -- features many of these women artists' work. Our predecessors' executives and advertising department personnel commissioned both men and women artists to use art as a means to lure potential passengers to travel or settle the West. Its vastness, including Glacier National Park and the Grand Canyon, gave the artists endless subject matter.
To coincide with Women's History Month, we are proud to showcase a few of the works created by just some of the many women artists in our collection. When these were painted 150 years ago, art was not considered an acceptable career for the fairer sex. But these women had a gift that they thankfully chose not to ignore, and their contributions to art and to our railroad's history are incalculable.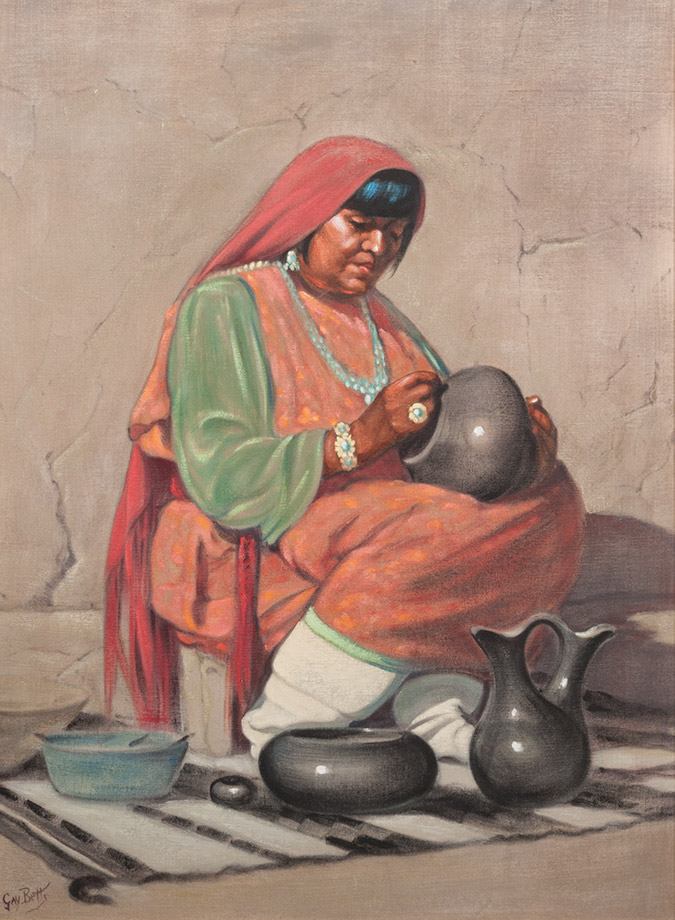 Grace Betts (1883-1977)
Born in New York City, Betts was the daughter and pupil of Edwin D. Betts Sr. In addition, she studied at the Art Institute of Chicago. Betts was a painter, muralist, illustrator and teacher. She specialized in painting Native Americans and Western landscapes. This painting is one of five that Santa Fe bought from her.

Edith Hamlin Dixon (1902-1992)
Born in Oakland, California, Hamlin began her studies with muralist Ray Boynton at the California School of Fine Arts in San Francisco during 1920. After graduating in 1924, she moved to New York, returning to San Francisco in 1931. Before her return, she traveled in New Mexico and Arizona. Under the federal art programs of the Public Works of Art Project (PWAP), Hamlin painted murals at Mission High School and at Coit Tower in San Francisco. In 1937 she married Maynard Dixon, a well-known artist 27 years her senior.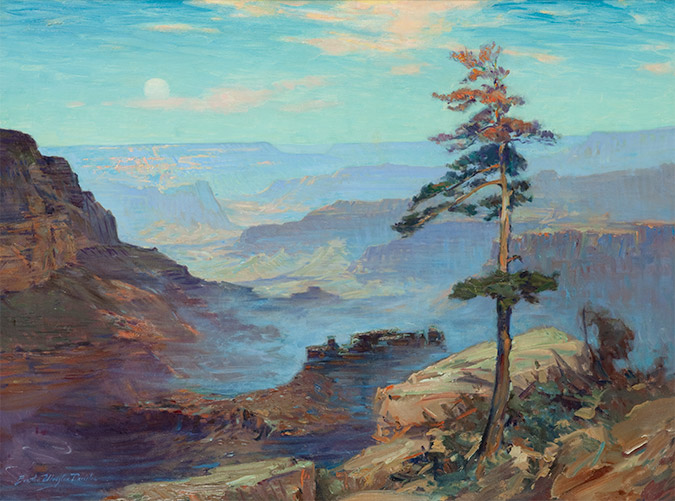 Bertha Menzler Dressler (1871-1947)
A Chicago-based artist, Dressler graduated from the Art Institute of Chicago in 1892 and studied in Paris for several years. She focused on landscapes after a trip to Arizona in 1903. She gained a reputation for her desert and Grand Canyon scenes.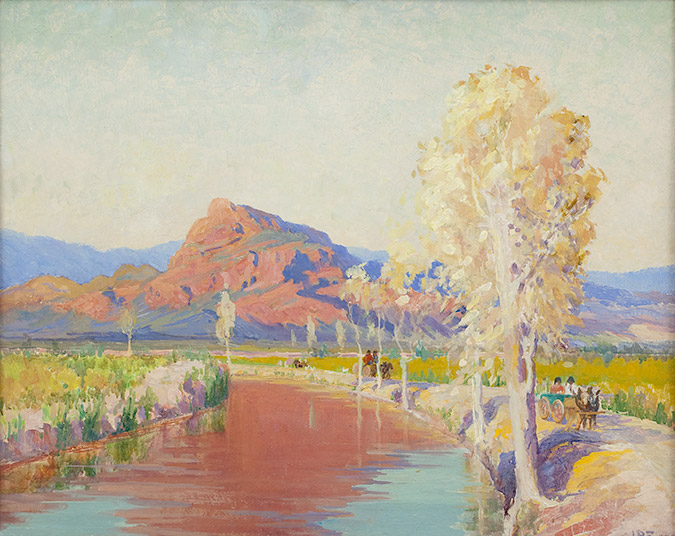 Jessie Benton Evans (1866 – 1954)
Born in Akron, Ohio, Evans was educated at Oberlin College in 1882, graduated from the Art Institute of Chicago in 1904 and was a student of William Merritt Chase in Chicago. She studied in Venice and exhibited in the Paris Salon of 1911 -1912. Because of her poor health, the Evans family moved to Phoenix, where she learned to love the many colors of the desert. The Santa Fe bought 13 of her works, more than any other woman artist.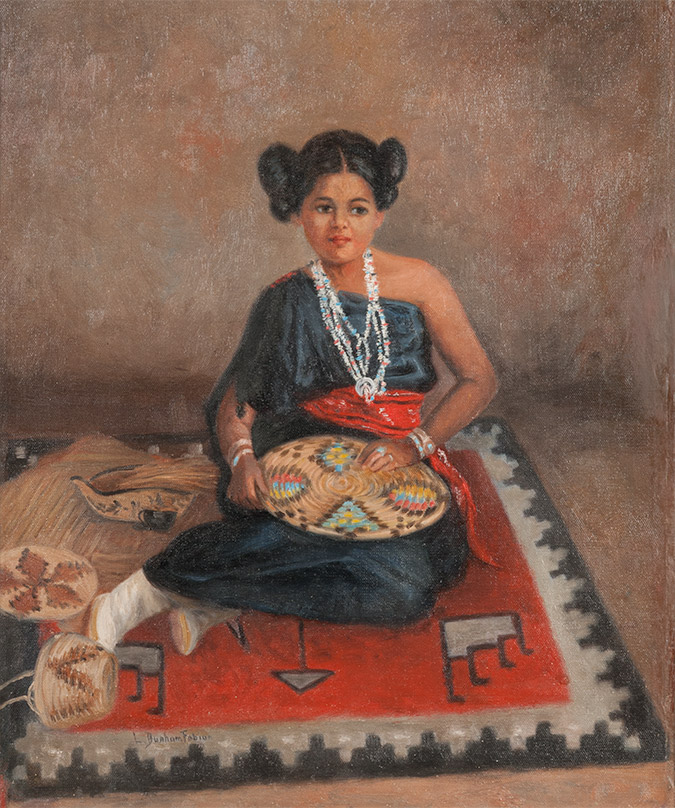 Lydia Dunham Fabian (1857 – 1947)
Born in Charlotte, Michigan, Fabian studied at the Art Students' League in New York and the Art Institute of Chicago, and she was a pupil of Ossip Linde and Henry Henshall. She was an active painter in the Chicago area but also found inspiration in the peoples of the Southwest. Noted for her genre scenes, Fabian was a member of the Santa Fe Society of Artists. She later added photography to her list of accomplishments.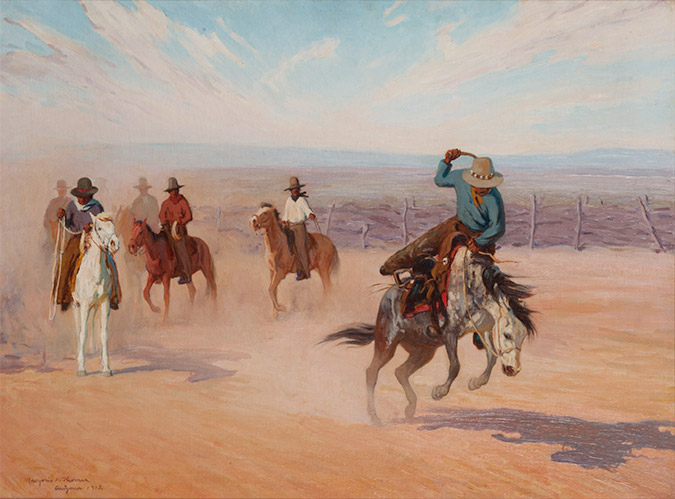 Marjorie Helen Thomas (1885 – 1978)
Born in Newton Center, Massachusetts, Thomas studied at the Boston Museum School of Fine Arts under Tarbell, Frank Benson and Philip Hale. She also studied with Louis Kronberg and J.P. Wicker. Thomas, who copied the Impressionists' style in her use of colors, painted in oil and watercolor and was an illustrator active in Arizona from 1909. She preferred to depict daily activities of Native Americans. Thomas also was hired by the PWPA, and her paintings hung in the Arizona governor's office.
Did You Know?
More than 1,000 women artists painted the West, beginning in 1843.
San Francisco served as the first art hub for women of the American West.
In 1858, 50 women artists in San Francisco decided to have an exhibition of their work. In a few years it had grown to 81 women who displayed 270 works. They also congregated in Chicago, Colorado Springs, Colorado, Denver and other places in New Mexico and Arizona.
Western women artists improved their art by taking classes. In 1874, a class in San Francisco signed up 60 students; 46 were women.
William Simpson, chief of advertising for the Santa Fe, bought 35 canvases of women's art around 1903.

Source: How the West Was Drawn: Women's Art by Linda Osmundson