UPDATE: Track Outage in Wisconsin Impacting Train Operations
As previously reported, severe weather Monday night and into Tuesday caused washouts in multiple locations on our Aurora Subdivision, a few miles southeast of La Crosse. One main track was restored this morning at approximately 7 a.m. CDT.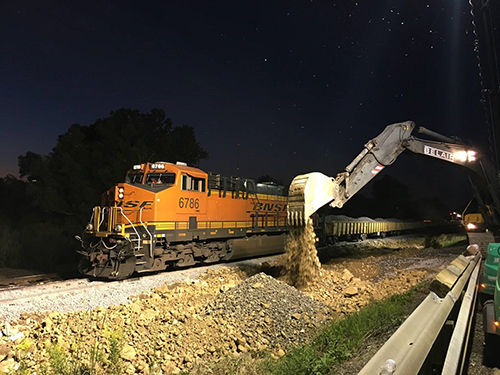 BNSF crews continue to work aggressively to fill in flooded areas and complete track repairs on the second main track. We estimate service being restored on the second main track by 12 a.m. CDT.

BNSF will continue to re-route some trains to minimize this disruption until service is fully restored. Customers tracing their freight may notice nonstandard routings, locations and interchanges. This traffic re-routing could lead to longer overall transit time compared to normal conditions.

If you have questions regarding your shipment(s), please contact BNSF Customer Support at 1-888-428-2673. We will continue to provide customers with further updates.