Intermodal Network Update for Friday, September 28, 2018
Operational Performance
BNSF operating teams continue to move robust freight volumes on the network. Total volume moved by the railroad exceeded the 200,000-unit level for the 30th week this year. No other North American railroad has moved 200,000 units in a single week in 2018.

Overall velocity for cars and trains each increased by a significant margin versus the prior week. The number of trains held as well as terminal dwell continue to run at elevated levels versus the previous September. Our operating teams remain focused on matching resources to freight volumes and working with customers and other stakeholders to reduce unproductive dwell throughout the cycle of shipments being handled.

BNSF is adding significant line capacity and expanding facilities in key growth areas as part of our 2018 capital plan. As we reported, new fourth main track is now in service along a portion of our Southern Transcon through Amarillo. While work on the project caused some disruption to train flows during the past several months, this new track is now supporting greater velocity and efficiency for traffic moving through that area.

Intermodal Update
Last week, new production track was placed into service at our Los Angeles (Hobart) Intermodal Facility. The new track, pictured below with arriving train on the right, provides additional capacity to handle robust volumes as we move into peak shipping season.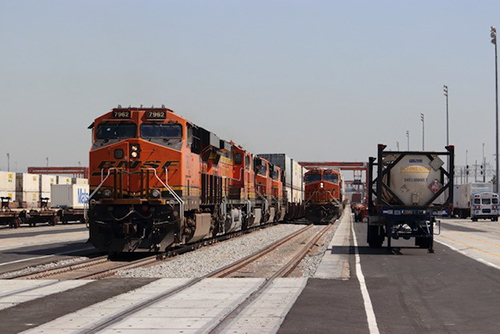 As part of our recent expansion of the Corwith Intermodal Facility in Chicago, BNSF has installed two new Cantilevered Rubber-Tired Gantry (CRTG) cranes. The cranes went into service last week over the new three-track module.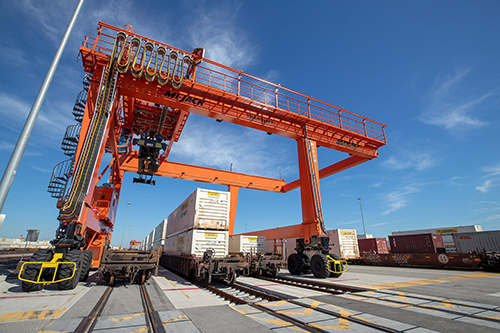 The design of these one-of-a-kind cranes allows BNSF to span multiple production tracks and perform trackside stacking without impeding the ability to serve trucks/hostlers. Along with the multiple production tracks, the crane design and overall height enables more lift density and reduces the need for driving versus a more traditional rubber-tired gantry (RTG) crane.

On Wednesday, October 3, the Pulaski Street entrance to the Corwith facility will be impacted due to scheduled crossing repairs. All traffic will be required to utilize the main Kedzie Street gate. The repair work is expected to be completed within 24 hours.

Service Expectations for the Week Ahead
Favorable operating conditions are expected across much of the BNSF network. Major maintenance activity will continue in some areas, including on our Ft. Worth Subdivision, which runs between Fort Worth and the Texas/Oklahoma border, as well as on the Seligman Subdivision, which runs between central Arizona and the Arizona/California border. Train delays through these locations are possible due to scheduled daily work windows.

Below is a look at the key operational performance categories for the week ending September 27:

Total trains held for the week decreased by more than 15 percent with an average of 116.4 trains held versus 137.9 trains held during the prior week.
Versus the September 2017 average: up by 63.1%

Total trains on the system was down by nearly one percent versus the prior week with an average of 1,633 trains on the system.
Versus the September 2017 average: up by 11.9%

Car velocity, measured in miles per day (MPD), was up by more than three percent at 208.6 MPD versus 202.1 MPD recorded the prior week.
Versus the September 2017 average: down by 6.7%

Train velocity, measured in miles per hour (MPH), was up by nearly six percent versus the prior week at 17.6 MPH.
Versus the September 2017 average: down by 6.5%

Total volume was essentially unchanged from the prior week with 212,016 units moved in Week 38 (ending September 22) versus 212,124 units in Week 37 (ending September 15).

Terminal dwell increased by nearly two percent versus the prior week at 25.9 hours.
Versus the September 2017 average: up by 5.7%

As always, we thank you for your business and appreciate the opportunity to serve as your transportation service provider. We welcome your feedback and questions.