Intermodal Network Update for Friday, March 17, 2023
OPERATIONAL PERFORMANCE
Recovery efforts are ongoing in Arizona following a derailment caused by heavy rain and severe weather on our Southern Transcon route on Wednesday night, approximately 11 miles southeast of Needles, California. Both main lines on this heavily trafficked portion of the Transcon were impacted. A 24-hour Command Center was activated, and additional responders were deployed to address impacts to our network and expedite recovery efforts. We reopened the first main track this afternoon and estimate the reopening of the second main track this evening. With the high volume of traffic to/from California, customers with shipments designated to move through this corridor should expect delays until operations have fully normalized into next week.
Another powerful storm, the eleventh since Christmas, brought more heavy rain and snow to the West Coast this week, with record-breaking amounts reported across California. Last weekend, high water caused two washouts on our mainline about 27 miles northwest of Bakersfield. Approximately 40 cars of ballast - the main components for the tracks on which BNSF trains operate - were poured as BNSF crews worked to repair the track and restore service. Service on the affected main line was restored Monday afternoon, and operations in the region have returned to normal.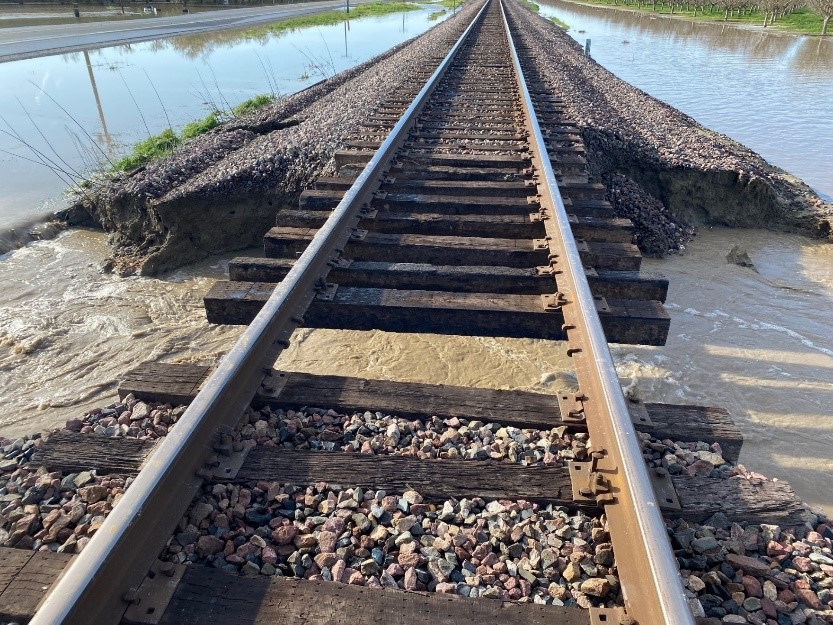 Flooding on our mainline near Bakersfield, California – March 12, 2023
BNSF teams continue to face difficult operating conditions as widespread snow and double-digit accumulations blanket much of our North Region, particularly the Upper Midwest. As of Sunday, the 2022-23 season has been the eighth snowiest on record for the Twin Cities, with more than 80 inches of snowfall since October.

The impacts of the winter storms are reflected in our key service metrics; car velocity decreased versus the prior week and remains slightly below the average reported for February. Terminal dwell increased by 2% but remains steady with the previous month. Our local service compliance measure is also down slightly from the previous week and month.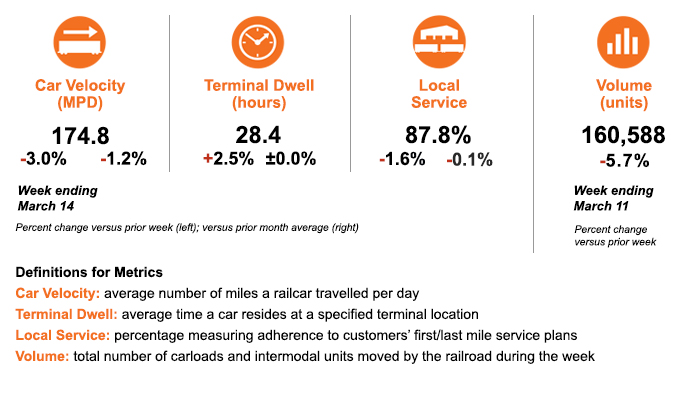 SERVICE EXPECTATIONS FOR THE WEEK AHEAD
An outbreak of Arctic air will usher in the final official days of winter as temperatures drop below average across the Plains as far south as Southern Texas this weekend.
A new storm system will be approaching the West Coast by the latter part of the weekend, with the next round of precipitation extending from Seattle to San Francisco by early Sunday. BNSF teams are monitoring forecasts and are prepared to respond to any weather-related disruptions as quickly as possible.
As always, we thank you for your business and appreciate the opportunity to serve as your transportation service provider. We welcome your feedback and questions.