Intermodal Network Update for Friday, August 19, 2022
Operational Performance
While operational performance continues to improve, BNSF faced some service challenges during the past week resulting from a track outage caused by a brushfire near Madill, Oklahoma, and a derailment last weekend in Oklahoma, near Boise City.
Additionally, rail operations are normalizing on our Southern Transcon route between Southern California and the Midwest following a derailment on Wednesday in Texas. As reported, the incident occurred on Wednesday morning, approximately 45 miles southwest of Amarillo. Both main tracks on this heavily-trafficked portion of the Transcon were out of service while crews worked at the scene. The first main track reopened in approximately 12 hours, and service was restored on the second track the following morning.
Despite the service interruptions, BNSF teams are making steady progress restoring service. Overall velocity was slightly higher versus the prior week, while terminal dwell was reduced by more than four percent. Local service also improved and remains above last month's average level. We also made additional progress in reducing manifest traffic backlogs, which are at their lowest point since December 2021. Total volume increased by four percent versus the prior reporting week, reflecting overall network velocity and fluidity improvements.

As reported yesterday, BNSF is terminating the California permit embargo on September 4. As anticipated, our temporary permit embargo continues to drive greater throughput and efficiencies. We issued permits for 12% more cars versus the prior week. BNSF will build on the positive momentum gained during the embargo by working collaboratively with individual customers to manage traffic flows. Customers can refer to our online form to submit permit requests, view the current list of commodities prohibited from the embargo, and obtain additional information.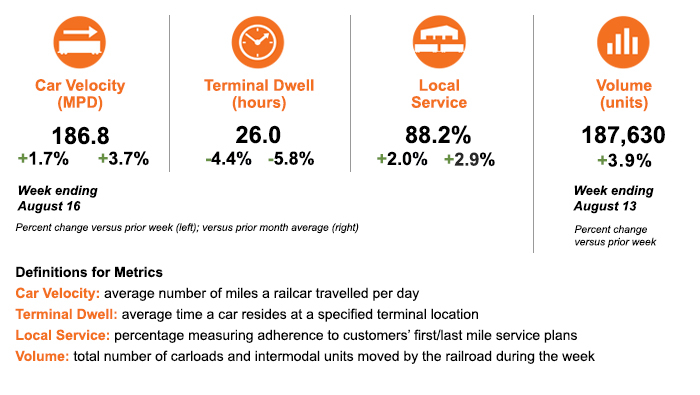 Intermodal Service Update
Operating conditions at BNSF's intermodal facilities are challenged due to elevated inventory levels and staged trains waiting for unloading. Recent service interruptions like the derailment on the Southern Transcon condensed train arrivals into some facilities. In addition, the continued chassis shortage and longer dwell times have impacted our ability to process trains. Customers are encouraged to prioritize picking up containers and trailers that have been unloaded at our facilities. Since weekends typically result in greater dwell percentages, we ask customers to pay special attention to de-ramped shipments this weekend. Prompt pick-up will help improve traffic flows, reduce congestion, and provide the space needed to process inbound shipments as quickly as possible. We encourage customers to use our web and mobile tools suite to track shipments.

Service Expectations for the Week Ahead
A heat wave is moving across parts of the Pacific Northwest and central California, where excessive heat warnings and advisories are in effect. BNSF teams in the Desert Southwest are also monitoring the risk of heavy rain during the next several days. Flash flood watches are currently in effect across much of Arizona and western New Mexico. BNSF teams will continue to address any track washouts and quickly restore service through affected locations.
As always, we thank you for your business and appreciate the opportunity to serve as your transportation service provider. We welcome your feedback and questions.